Are you looking for the perfect apartment to call home?
Look no further than Creek View Apartments in West Greeley, Colorado!
We offer a variety of floor plans to accommodate your unique living needs, with options ranging from one to three bedrooms and 6 or 12-month leasing. Our luxurious Telluride, Vail, Breckenridge, Estes Park, and Steamboat Springs floor plans provide everything you need for a comfortable and happy living experience. With so many floor plans to choose from, you're sure to find the perfect fit!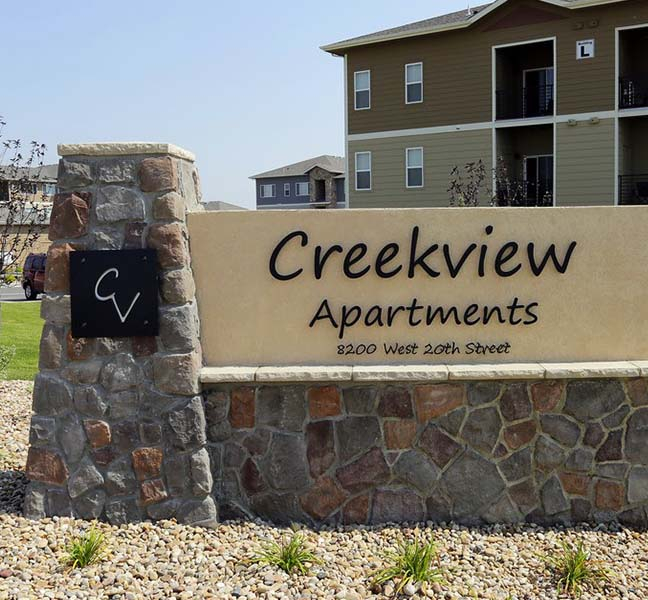 Five Beautiful Apartment Floor Plans
The Best Rentals in Greeley, CO
Whether you're living alone or moving with your family, Creek View Apartments in Greeley has the perfect apartment for you to call home. We're pleased to offer beautiful and spacious one-, two-, and three-bedroom units to accommodate all your needs. With four layouts to choose from, there's something for everyone — and at Creek View Apartments, we make it a breeze to find an apartment layout that's right for you!
Our apartments come equipped with all the modern conveniences you love, like washer and dryer hookups, central air conditioning, walk-in closets, and more. Browse our apartment layouts below, and contact us today to schedule a tour to see for yourself just how wonderful living in our apartments can be!
Our goal is to provide you with the apartment layout that best suits your needs, and whether you're a student at UNC or you're searching for a place for your family to live, you'll feel right at home in our Greeley apartments. Have a question about our apartment floor plans? We're here to help! Ready to schedule a tour to see which of our floor plans is right for you? We'd be glad to show you around, so get in touch with our friendly team today to schedule a visit. We look forward to hearing from you!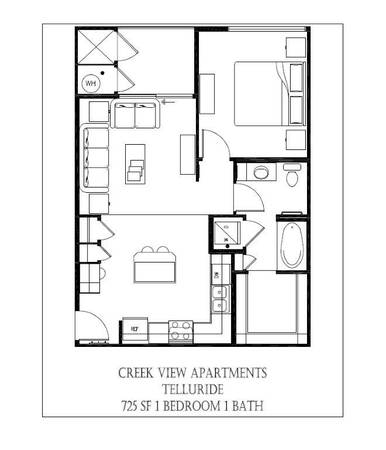 1 bed, 1 bath, 725 sq. ft.
Are you looking for the perfect apartment to fit your lifestyle? Our Telluride floor plan is a one-bedroom, one-bathroom option that offers 725 square feet of space. With this floor plan, you'll have just the right amount of room to live comfortably, whether you're flying solo or with your significant other. So if you're looking for an apartment that will provide you with a manageable living space plus a little wiggle room, our Telluride option is definitely worth considering!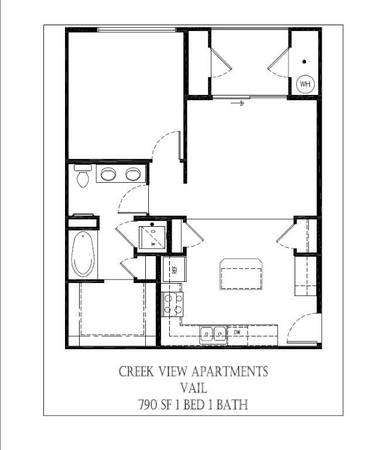 Vail
1 bed, 1 bath, 790 sq. ft.
Looking for a spacious feel without the stress of additional rooms? Our premier Vail floor plan option is a breathable one-bedroom/one-bathroom apartment. Single-room apartments can get congested, but with Vail, you can spread out with all 790 square feet of space. Don't result in overpaying and managing two or more bedroom houses. The Vail apartment floor plan offers everything you could need to live easy and be happy.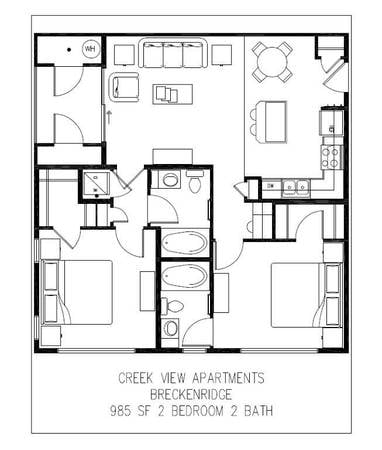 2 bed, 2 bath, 985 sq. ft.
Creek View's Breckenridge floor plan is a spacious two-bedroom two bathroom apartment. Equipped with a comfortable family room, two bedrooms - with spa baths as well as two decent-sized bedrooms built with large closets, this floor plan provides adequate space to spread out, relax, and hang out. The two-bedroom/two-bathroom Breckenridge layout is 985 square feet.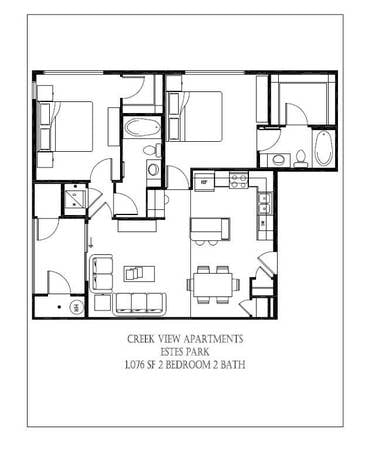 2 bed, 2 bath, 1076 sq. ft.
Are you looking for a place to fall in love with and stretch out a bit? Experience a larger living space without breaking the bank. Creek View offers the airy Estes Park floor plan, which is a spacious 1,076 square feet with a two-bedroom/ layout. Perfect for those looking for a little extra room to stretch out!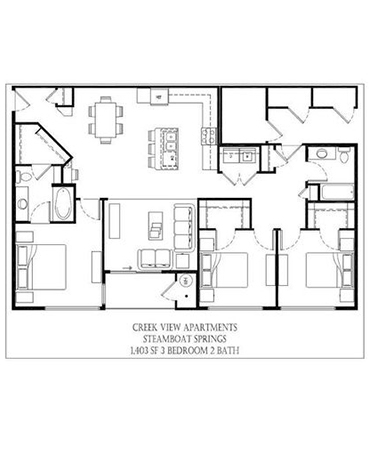 Steamboat Springs
3 bed, 2 bath, 1403 sq. ft.
Are you looking for the luxury of high-end living without the high-end costs? Our Steamboat Springs floor plan apartment is the perfect option. With 1,403 square feet of space, this three-bedroom/two-bathroom apartment provides all the amenities, modern design, and comforting space you need, without overextending your budget. It's ideal for growing families and roommates alike, as it offers plenty of privacy and a feeling of safety and luxury. Don't miss out on this great apartment floor plan!
Our ultimate goal is to provide an apartment layout that is most accommodating for your specific needs. Whether you're a student, small family or traveling for work, we offer an array of options in Greeley that fit you best.